In the spring of 1932, George W. Lowry Jr., along with his father and uncle, opened Lowry's Bicycle Shop on the corner of 3rd and H in Modesto next to a small gasoline filling station.  As the Great Depression grew worse, George's neighbor was forced to head back to Arkansas to help with family matters and asked George to keep an eye on his station.  The man never returned and George's love for the oil industry was ignited.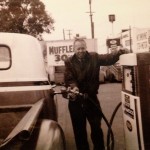 It would not be until 1959 after George returned home from serving in the United States Army that George W. Lowry, Inc. was officially established.  George always said that "the foundation of a good business was respecting customers by providing a superb product, extending outstanding customer service, and taking care of their needs." With that in mind, he purchased a Hancock Oil Company Consignee in Stockton and then acquired E.D. Blakeley and Sons, a Signal Oil and Gas Company, located in Salida.  What had started as a one truck company was starting to grow. This growth was noticed by Mobil Oil Corporation and in 1967 they signed Lowry's to a wholesale agreement embarking on a partnership that has spanned over four decades.
George's only child, Richard, joined the company in 1975 after graduating from the University of the Pacific. The collaboration of father and son helped to continue the evolution of Lowry's.  In 1976, Mobil Oil increased George W. Lowry, Inc.'s territory into Modesto and Lowry's purchased the property that our current office and cardlock sit on today.  Lowry's continued expanding and in the 1980's acquired John Broggi Mobil Oil Distributorship on the West Side of Stanislaus County. To better serve their customers' needs, two new divisions were started that focused on petroleum equipment and installation, and California regulated transportation of recycled waste oil.
In the spring of 1996, after a prolonged battle with cancer, George W. Lowry, Jr. died.  His passing brought about renewed vigor to keep his legacy alive and pass his love of the oil industry to the next generations. With that in mind, Richard purchased Vierra Petroleum Company in 2000 located in Patterson, then one year later Lowry Oil joined CFN (Commercial Fueling Network). Under Richard's leadership, Lowry's added an Environmental Compliance Division specializing in SPCC Plans and certified his staff in Hazwoper and Hazardous Substance Removal and Remedial Actions #2603 allowing Lowry's employees to always be prepared should any accident or spill occur.
Richard and his wife Brenda have six children, four that currently work in the business.  Deni (Lowry) Wright manages their Modesto Office and Dispatching, Alicia (Lowry) Biedermann is the Cardlock Manger and handles their National Accounts, David Lowry is part of the Equipment Installation and drive team, and James Lowry is a certified diesel and automotive mechanic helping ensure Lowry's fleet is safe while on the road. The next generation is as knowledgeable and dedicated to the business as the two generations that preceded them.
Currently, Lowry Oil is thriving thanks to the dedication of its family, and more importantly, their employees and customers.  In an effort to preserve George W. Lowry Jr.'s, legacy, the company keeps his founding principles at the forefront.  Today, Lowry oil is focused on respecting their customers by providing a superb product, extending outstanding customer service by meeting their needs now and in the future.